Event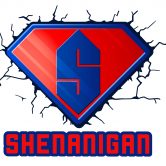 Shenanigan 2018
Location:

Munlochy

Venue:

Wildwoodz

Length:

01:00 pm – 01:00 am
Shenanigan smashes back for it's 4th year whipping up 12 hours of electronic music across 3 stages, each crammed with fresh musical talent from across the Highlands and Islands.
This year we are pleased to confirm we have a secured a new unique venue which will allow us to bring a whole new exciting vibe to Shenanigan, just 10 minutes from Inverness!
This year we are delighted to welcome the High Society Soundsystem crew from Edinburgh who will be bringing us an exciting new arena for 2018!
Come, bring your joy and boogie with us for the 4th Highland Shenanigan!!!
Early bird tickets on sale now! 
Buses will be running to the festival site, as well as a dedicated taxi rank. No on site parking.
18+ Challenge 25 policy in operation
☻ Al Carson
☻ Trojan
☻ Alan Macpherson (Auidolife)
☻ Tiny
☻ Ckaz
☻ Salvona
☻ Iain Sabiston
☻ Euan C
☻ Fandango
☻ James King
☻ Phil Macdonald
☻ Scott Muir
☻ Nige
☻ Zoe Mackenzie
☻ Flynn
☻ Ramie Gold
☻ James Stirling
☻ HiSo Sound
☻ Andy Innes
☻ DJ Lee
☻ Dj Ryz
☻ Twigz
☻ Andrew McGibbon (Filth)
☻ Gowans
☻ Matt Lyon
☻ Alan Grant
☻ Sean Murphy (HLS)
☻ Kam Cheng
☻ Lewis Bates
☻ Justjon (Vault Aviemore)
☻ Richard Lewis
☻ Josh Ross
+ More still to be confirmed