Artists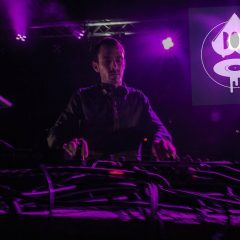 Matt Lyon
Matt is no stranger to the electronic music scene in the Highlands. From an early age he was blasting beats from his bedroom studio before branching out into hosting all night forest raves and intimate venue gigs. It wasn't long before Matt became a regular name appearing on flyers across the Highlands and beyond.
With a lack of underground club platforms available locally at the time, Matt travelled the UK and Europe in search of new and exciting Techno inspiration before setting up his own club night alongside like minded friends, bringing fresh underground music to clubbers in the Highlands as an alternative to commercial clubs and tunes. Dedicated to bringing techno to the Highlands, Matt's events went from strength to strength and he was soon hosting and warming up for internationally respected acts such as Gary Beck, Harvey Mckay and Italian duo Phunk Investigation, as well as regularly hosting 'residents' nights which took him to many different local venues including the Vault Aviemore and regular appearances in Karma Lounge, Inverness.
More recently, along with some like-minded friends, Matt has focused his energy into developing Shenanigan – a community driven, grassroots electronic dance music project. Matt says; "Shenanigan is a multi-stage music festival, designed with the ethos of everyone working together with the aim of guaranteeing a platform for local, up and coming DJs to all come together and showcase their skills. I have played every year myself and always enjoy the opportunity to get behind the decks and do my thing, alongside so many talented local artists."
As well as his own events, Matt is regularly asked to play guest slots for promoters from across the Highlands and beyond. This has found him with guest appearances at venues and events such as The Ironworks Inverness, Vault Aviemore, Belladrum Festival, The Tunnels Aberdeen, Liquid Rooms & The Annexe Edinburgh, Shenanigan Festival, The Tooth & Claw, Bogbain Farm to name but a few.
Matt has also been recognised for supporting charity 'Fund-Raver' style events over the years. These have seen him perform alongside a host of fellow local DJs in a variety of venues in Inverness and Dingwall.
Aside from his live performances behind the decks, Matt's sounds have been heard on local radio and streaming platforms such as North Highland Radio, Highland Live Stream and Hypnotic Grooves mix series.