Artists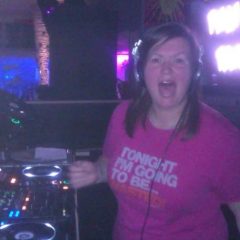 Ckaz
Hailing from the Isle of Mull, DJ Ckaz has been cutting about the dance scene since the early 90s. Her dance roots are firmly placed in hard house/hard dance, with the Tidy Trax label and Lisa Lashes playing the main part. She has followed her favourite DJs across the length and breadth of Britain and even over to Europe.
The last decade has seen her turn to the decks herself, starting with mixing electro house and minimal, but quickly moving to techno and house. After playing at outdoor parties and small venues for years and getting settled in the Inverness scene, she then co-founded Boobs on Decks with many successful gigs in Karma and the Tooth and Claw. More recently Ckaz appeared on the well renowned Mothers Ruin stage at Belladrum with a prime time Saturday night slot.
2o19 has seen Ckaz perform at The Tunnels, Aberdeen alongside Gary Beck and taking up a new residency in Encore.
Later this summer will see the launch of her new club night – VIBE – catering for all genres.
After playing out to a packed out Shenanigan in 2016, 2017 and 2018; DJ Ckaz returns once again to Shenanigan this August!