Artists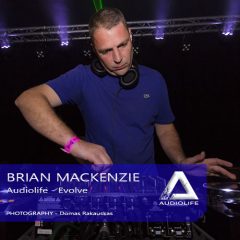 Brian Mackenzie
Brian has been actively involved in the Dance Scene for over 20 years now, initially stemming from watching his Father DJing throughout the Highlands during his Childhood. Local Ross Shire after parties and attending club nights Run by friends Mark Munro and Kevin Marshall cemented Brian's love of dance music and promoted Brian's decision to invest in a set of Belt Driven Turntables back in '97.
He spent many a weekend buying records and spinning the decks in JMF Records Invergordon with his close friends Gordon O'Hare & Steven Flynn, embracing the dance scene to its fullest. Brian's early DJ career was spent performing at after parties and the many club nights that were put on around the Highlands, in venues such as Barbazza, The 45 Bar and The Novar Arms Hotel.
Following attendance at local club night Audiolife and meeting promoter Alan MacPherson with friend Steven Flynn, a vision was shared leading to Brian becoming an Audiolife Resident DJ. In 2010 Brian and Alan started a new club night Evolve within the newly refurbished nightclub Cake, hosting many top DJ's including Harvey Mckay, Graeme Park and Gary Beck amongst others.
Brian's progressive sound and influences come from The Global Underground era with DJ's Nick Warren, John Digweed, Danny Howells and King Unique being some of his favorite's. Studio time spent with Mark 'the Shark' Munro has also had a massive influence on him.
Family commitments has meant Brian has stepped back from the dance scene a little but his stand out set at last years Audiolife gig, supporting Mirella Kroes showed he has not lost his skills or ear for quality tunes.
"This years Shenanigan festival will be my first gig of the year and I am excited again to let the people hear what I bring to the table"