Artists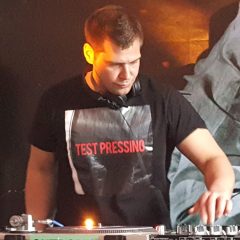 Aiden Travers
Aiden was 10 years old when he had his first shot on a set of decks at his brothers. When there was not much attention being paid to him one night, he jumped on. A life changing moment, the fire was sparked!!!
Around the same time (1993) His parents started an underground nightclub called Jungle Palace. They were bringing high end DJs to the highlands where Craig and Graeme (Silicone Soul ) and his brother Nathan, who were the residents (The Force). At first, Aiden was a bit young to attend these events but he was always at the after party. The DJs always came back for a party, usually a three day event. Aiden watched every DJ and how they worked the groove with their own unique talent. At this point, there was always a set of Technics in his house due to the club night. Aiden grew up in the countryside with no neighbours in Nigg, Ross-shire and he played those bad boys day in, day out! Loud!
Every weekend Aiden would listen religiously to the Pete Tong Essential Mix, always listening/finding grooves. It wouldn't be long before the DJs he was listening to one night that he would be playing alongside them.
At the age of 13-14 Aiden started to look older than he was and with this became the privilege of getting into the clubs. Always watching, always learning. Aiden started his first club night in the Tain Pool Club when he was 14 (Housematic). Aiden sold out every gig with people dancing on the pool tables, chairs etc.
 
After a few years, Craig and Graeme moved on as Silicone Soul so Aiden took the reins as the main resident of Jungle Palace. Over an 8 year period as a DJ at Jungle Palace, Aiden played alongside Harri & Domenic, Slam, Junior Sanchez, Pete Heller, Silicone Soul, Jenga Heads, Jim Masters, Ralph Lawson, Ashley Beedle, Alex Knight, Dave Angel, Oscar, Jon Da Silva, Rejuvenation, DIY, Kevin Mackay, Farley Jackmaster Funk, Kid Bachelor to name but a few. Aiden also headlined many nights playing alongside his good friend Martin (Shaka Loves You) who played live congos alongside. Aiden also guested lots of other events, parties and outdoor events and live radio. 
Aiden moved to Glasgow when he was 17. Moving to Glasgow became a big time in his life, meeting key people and getting his face known in Glasgow where there was always a house party in a tunnel, club or park to DJ at. Aiden Travers held a residency night at Bar Block for 6 years called Shimmy Shake. Aiden's nights were notorious for the call of the wild!! Dancing on the tables shenanigans. Aiden was also an organiser of outdoor parties in the Campsie Glens outside Glasgow
. 
Having completed his HND Sound Production course, making music rapidly became his new thing, Spending all his time/ years in the bedroom busting a groove. At this time Aiden was a regular DJ at Club 69 and started his nights there called 440 Hertz and Test Pressing hosting such DJs as Rolando, Justin Robertson, Jim Masters, Silicone Soul, Billy Nasty, DJ Q etc 
Aiden has come full circle with 25 years of club promotion/DJ experience and he is very excited to bring his unique style of groove warping to the table with his funky thunder sound.
WARNING!!! Some people may get sore feet!